Welcome to Novo
mesto, where friendly people live!
Apartment and rooms Ravbar boasts more than 50 years of family tradition of renting accommodation in Novo mesto, the capital of the Dolenjska region. Great location (Smrečnikova ulica 17) only 350 m from the old town, in the middle of an oasis of greenery and peace.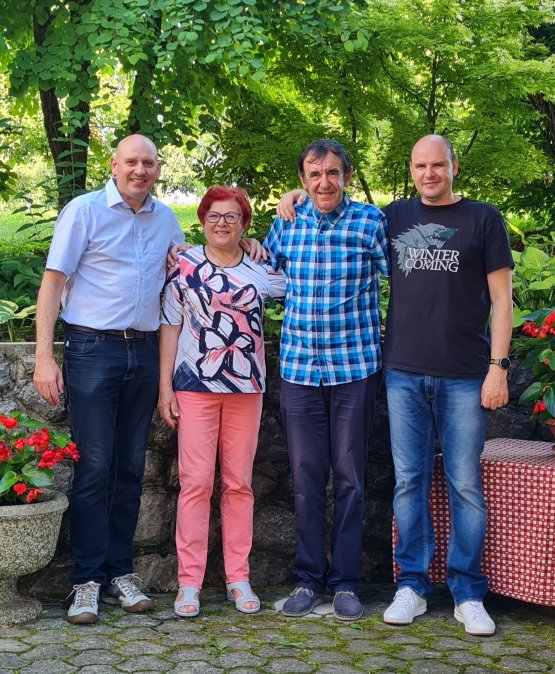 As early as 1971, grandma Kristina hosted the first guest under her roof, who was amazed by her hospitality and soon returned with friends. The good name of Ravbar rooms and apartments soon spread around the world. More and more guests came to stay with us, which is why we built new apartments in 2000 and added new rooms in 2005.
In 2009, we bought an apartment on Ragovska ulica 500 meters away from our main location with one of the most beautiful views of the river Krka in Novo mesto, which is intended for our most demanding guests. In 2012, we built a new vineyard cottage in a beautiful location in Stari Ljuben (8 km from Novo mesto), which we rent out to guests who want to experience pristine nature. We additionally registered our accommodation as a cycling hotel, as the owner Jože is one of the main cycling experts in Dolenjska and Bela krajina and the author of the map of cycling routes in the region.
In 2017, we bought an apartment in the center of Kranjska Gora, which we also rent out to nature lovers. In 2018, we built a cottage at our location in Novo mesto, which is ideal for picnics and socializing. Because we are surrounded by a huge garden, you will feel like you are living in the middle of nature.
Because we are also avid travelers, we know what it takes to make a guest feel at home. Uroš was the first Slovene to travel around the world by car, while his parents Milena and Jože have cycled over a large part of Europe. Most importantly, the Ravbar family (husband Jože, wife Milena, sons Matjaž and Uroš) continues the family tradition, as we have been connected with tourism all our lives and have received quite a few awards for our endeavours.
We will make you feel right at home, just as we did for so many guests in the past: from an astronaut and a National Geographic photographer to many great musicians and artists , as well as business people, athletes, cyclists, motorcyclists and travelers from all over the world.  The Ravbar family will do their best to make your stay pleasant and to make you want to visit again and again.
Welcome to our home!