About us
Welcome to your
oasis of peace
You will feel right at home with us. Our guests are BUSINESS PEOPLE, CYCLISTS, ARTISTS, ATHLETES, TOURISTS and TRAVELERS from all over the world who are always happy to return. We offer genuine hospitality, superior accommodation and we are the ideal starting point for discovering Slovenia and neighboring countries. In our vicinity you will find many cultural and natural sights, just waiting to be discovered.
Guest opinions
Comments about accommodation

Staying at "Ravbar" was a pleasure, it's located in beautiful nature and the staff is fantastic!
If it were possible, I would live here permanently. An oasis of friendliness, peace and excellent breakfasts in the middle of the beautiful Novo Mesto. Thank you and see you soon!
Thank you for everything. Wishing you all health and happiness.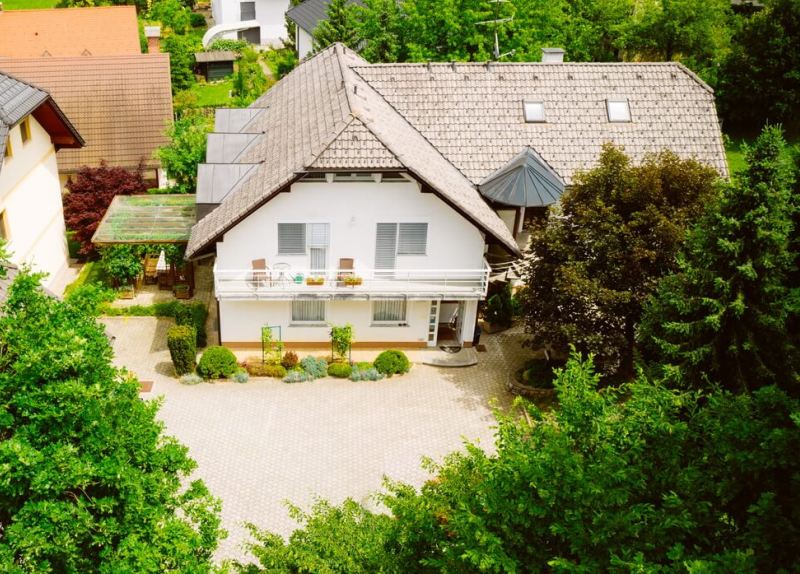 Apartments and rooms Novo mesto
Excellent and safe location only 350 meters from the center of Novo mesto. A real oasis of greenery. Several apartments and rooms available.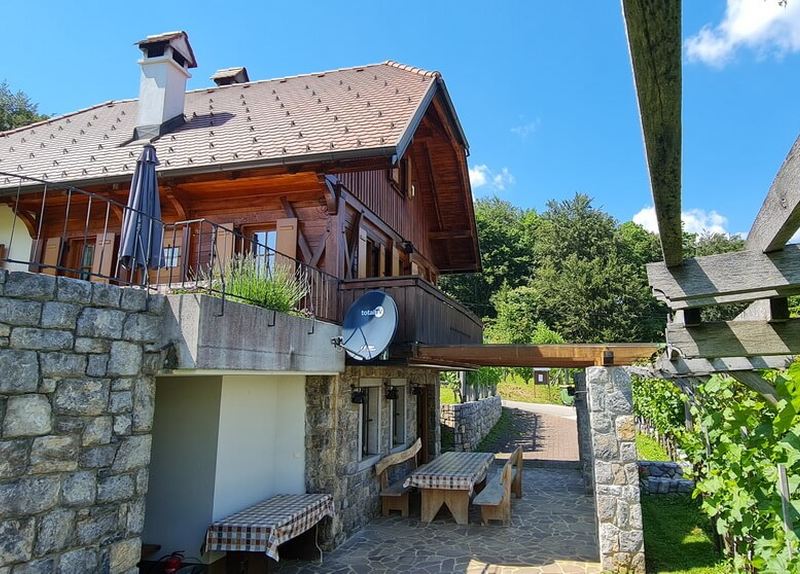 Vineyard cottage Ravbar Stari Ljuben
In an idyllic location with private parking only 10 minutes from Novo mesto. Vineyard cottage surrounded by vineyards and forest.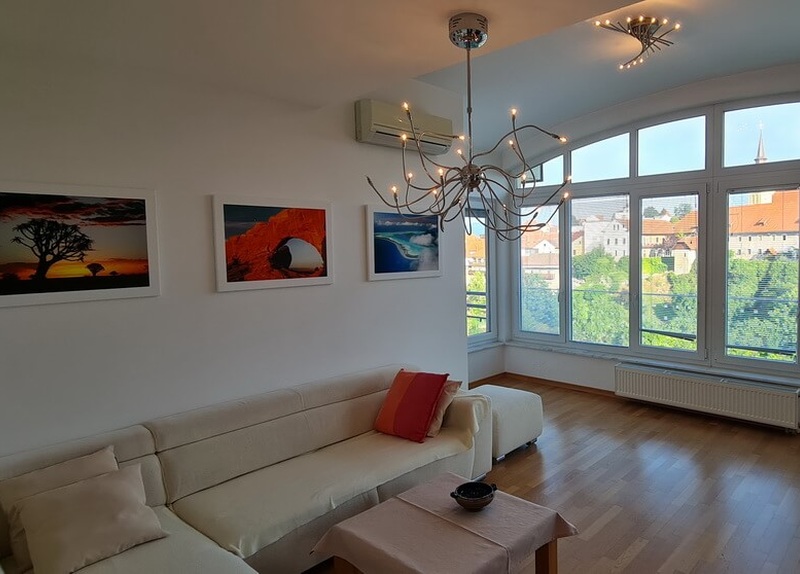 Superior apartment Ragovska Novo mesto
For guests that expect the very best, we also have a luxury apartment with a superb view. Novo mesto is a great place to stay.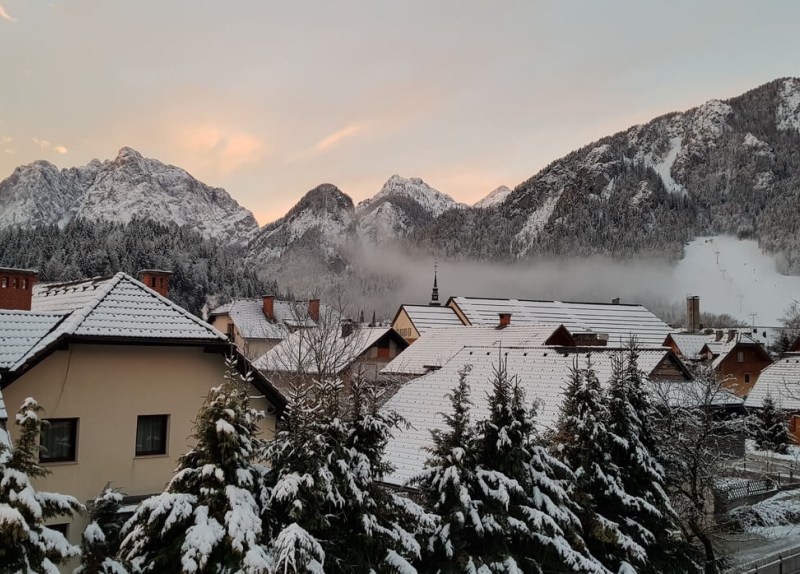 Apartment Ravbar Kranjska Gora
In addition to apartments and rooms in Novo mesto, we also offer accommodation in the center of Kranjska Gora.
Dolenjska, a hidden gem in Slovenia
Discover emerald green nature and rich cultural heritage. Exploring the Dolenjska region is a special experience. It is an ideal destination for people who  are not satisfied with a standard tourist experience, but want to discover off-the-beaten-track destinations with untouched nature and hospitable people.
Castles dotted around many hills of the Dolenjska region tell the tales of famous knights of days past, while the archeological collection of the regional Dolenjska museum is one of the most interesting collections in Europe. If you want to spend the day relaxing in a thermal pool or need a massage, we have some of the best spas in Slovenia with state-of-the-art wellness centers. Our food will delight you and no visit to Dolenjska is complete without a tasting of our excellent wines.
I have traveled in more than 100 countries all over the world, but Dolenjska is still the most amazing place for me (Uroš) To really get to know Dolenjska, you need to pause, take enough time and let it embrace you. Every step of your journey will be filled with unique experiences and unforgettable memories and when you get home you will already be planning your next visit!
Welcome to our home
Jože, Milena, Matjaž and Uroš Ravbar
We offer an ideal starting point for exploring Slovenia and neighboring Croatia
The capital of Slovenia – only 40 minutes drive to Ljubljana
The capital of Croatia – only 50 minutes drive to Zagreb
Sea – 2 hours drive to the Adriatic Coast
Activities – 10 to 15 minutes drive to Šmarješke and Dolenjske Toplice and Otočec (golf course, thermal riviera, wellness centers)
If you think that you have already cycled through every landscape imaginable and that nothing can surprise you anymore, then you must go for a ride in Dolenjska and Bela krajina. You will rediscover in yourself that feeling of childlike exuberance you thought you have forgotten by being in genuine contact with pristine nature. Forget about crowds and heat. Spend a hot day cycling in the Dolenjska forest (in summer you can cycle all day in the Gorjanci or Kočevski Rog regions) or discover the rolling wine-growing hills, where you have many options for both easier and harder variants (ideal tours for electric bikes).
Guest opinions
Opinions about the
cycling hotel
Jože Ravbar, a living sports legend from Novo Mesto. He welcomed and hosted us in his apartment complex. Jože, thank you!
Mini vacation - maxi pleasure. This time, on a bicycle, we discovered hills of Dolenjska, where the Krka river and green hills reign, dotted with attractive vineyard cottages. We were staying at the comfortable Ravbar Apartments. The location is great, the owner Jože Ravbar and his team are very friendly and hospitable. It was super nice.
Blog
Tips and news from the blog
Thanks to the Novo mesto Olympic Center, Ravbar Rooms and Apartments are perfect for accommodating participants of sports training
Ljuben bike trail I am heading to Dolenjska at the invitation of my two cycling friends Jože and Luka. We met years ago when we a
This unique reddish wine is synonymous with Dolenjska and is a Slovenian wine specialty. This wine presents both the Dolenjska win