The cviček wine
This unique reddish wine is synonymous with Dolenjska and is a Slovenian wine specialty. This wine presents both the Dolenjska wine region and its simple sincere people.
Cviček, this wine specialty, is intended for people who approach wine cheerily, with an open mind and zero prejudice.
It is a type of red wine produced from the red grape varieties of žametna črnina/black velvet (60%) and blue frankincense (10%) as well as white grape varieties (30%), among which the kraljevina and Laško Riesling (reisling italien blanc) predominate. In the right proportions, the red and white grape varieties blend into a wonderful harmony.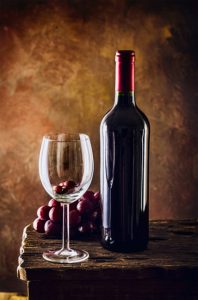 Cviček is one of the most mildly fragrant and unique wines of Slovenia. It is a dry wine with a low alcohol content (9 to 10.0 vol.%) but slightly higher in acids, which makes it unique and unparalleled, both in Slovenia and across the world. It is light red in color with a ruby tinge, and has a fresh fruity aroma with notes of red fruits (raspberries, cherries, red currants) and a mild, fresh, lively taste.
Its value is also reflected in its beneficial and diverse healing effects on the human body. Like all red wines, cviček also contains a good amount of flavonoids, which are known to have a positive effect on human health and the prevention of cardiovascular diseases. Some doctors have recommended drinking cviček with meals to patients with diabetes, a lack of stomach acid and high blood pressure.
With its unusual characteristics, lightness and drinkability, cviček really is a unique type of wine. Its character can be said to reflect the complexity and urgency of modern life and our yearning for a moderate and healthy diet. True wine lovers also know how to appreciate everyday wine, "un petit vin" as the French call it, a wine that requires no special occasion or preparation. It is a wine as marketed: without much determination and without hidden flaws. It is light and very drinkable. Cviček is a wine for all occasions and can be served as an aperitif (sparkling variety), paired with typical simple local dishes or enjoyed as a refreshment that will remind us of the good times we've had for years to come.
Guests of the Ravbar Rooms can have a taste of our home-made cviček and blue frankincense wines, produced by the estate owner Jože.